The Reno Phil is proud to present Disney's A Dream is a Wish, featuring four Broadway caliber vocalists, clips from iconic Disney movies including Frozen, The Little Mermaid, Lion King, Beauty and the Beast, The Princess and the Frog, Cinderella, Sleeping Beauty, and Aladdin, and some of the best known film in music cinematic history. We invite you to be enchanted and enjoy your favorite Disney songs in a whole new way…live in concert!
Two Showtimes!
Saturday, June 24, 2023
2:00 PM PST
7:00 PM PST
Please call our office for $30 children tickets – ages 15 and under.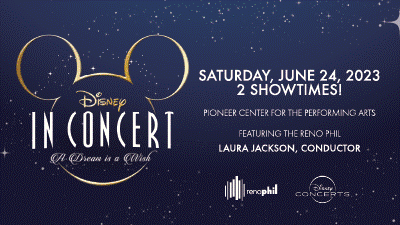 June 24 @ 19:00
Pioneer Center for the Performing Arts
Reno Philharmonic